On Tue, Feb 12th, 2013, President Barack Obama gave his "State of the Union" address before Congress and before the American people. We live blogged every scintillating moment of it right here.
[All times in CST]
7:27pm – Live blogging begins now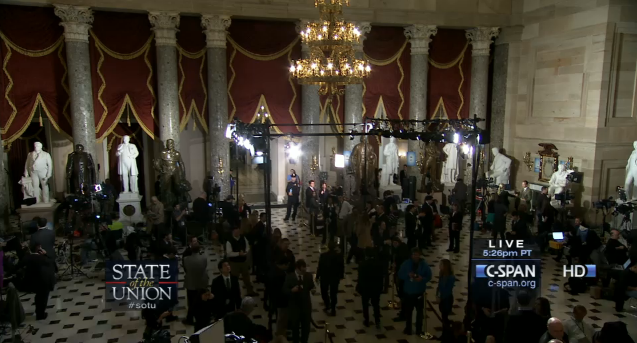 7:29pm – Keeping it nerdy. Streaming C-SPAN.
7:30pm – C-SPAN preshow is underway. Event officially starts at 8:00pm. CNN is staying with the Dorner thing for now.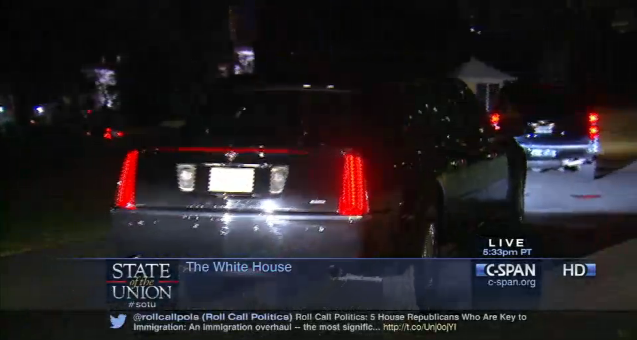 7:33pm – Presidential motorcade arrives.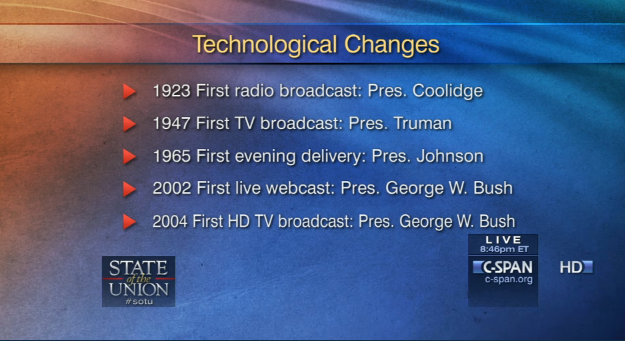 7:35pm – C-SPAN puts up the nerdiest graphic ever.
7:36pm – Sequestration, according to Congress: "Those cuts that we said we wanted? We know what we want now: we don't want 'em anymore."
7:40pm – Gun control, according to Congress: "Taking guns where they are banned, and banning them even more."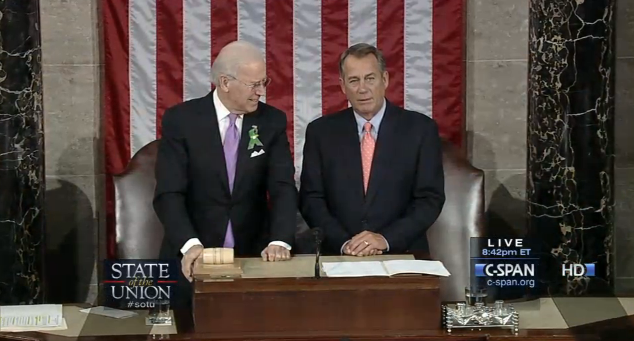 7:44pm – A candid moment.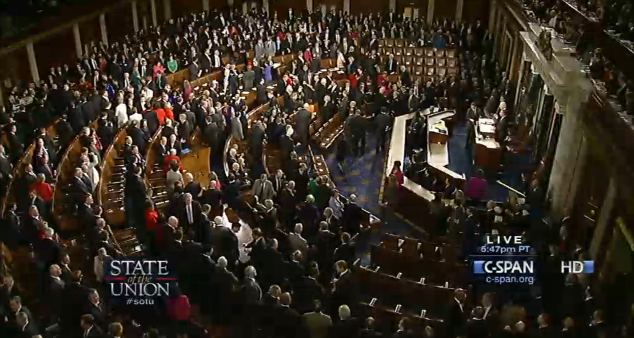 7:48pm – Members of Congress filing in.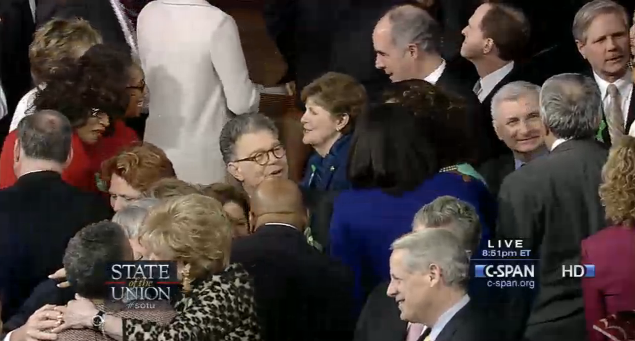 7:52pm – Al Franken is somehow still a Senator.
7:54pm – Okay, I heard a gavel. Now we're getting started.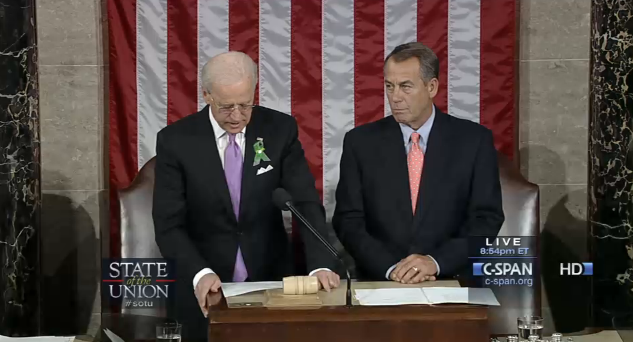 7:55pm – Vice President Biden speaks, sounds slightly intoxicated.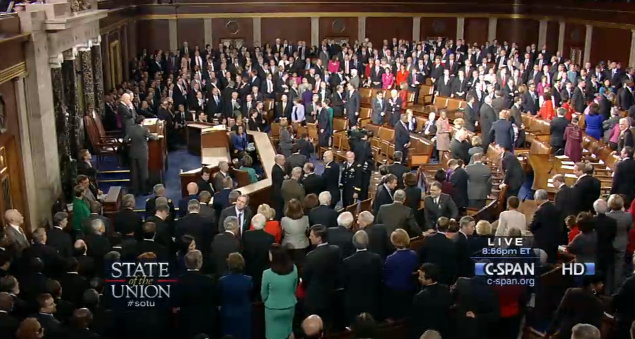 7:57pm – How many people does it take to ruin a country? This many.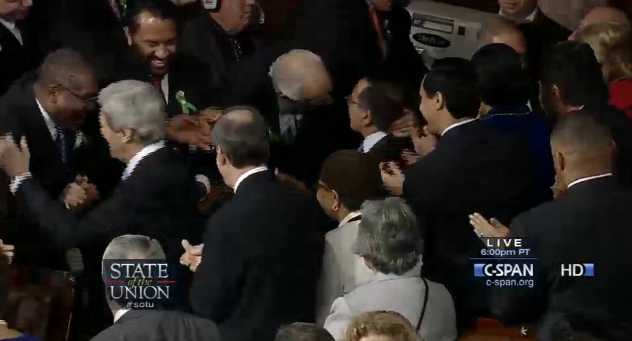 7:59pm – Here is Obama's new cabinet, most of whom he will never meet with.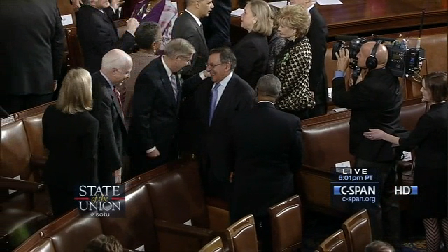 8:01pm – Outgoing Secretary of Defense Leon Panetta shared a nice laugh with Senators John McCain and Lindsey Graham. He said: "Hey guys, ever heard of a place called Benghazi?"
8:08pm – Waiting for His Excellency.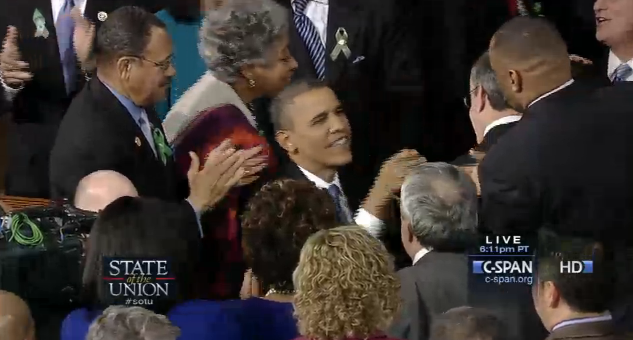 8:10pm – The Anointed One arrives.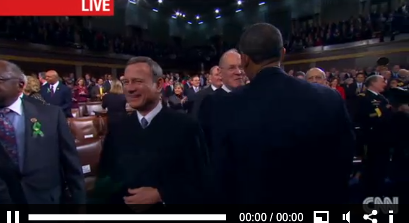 8:13pm – Obama greets Chief Justice John "The Tax Man" Roberts, without whom we would not have Obamacare.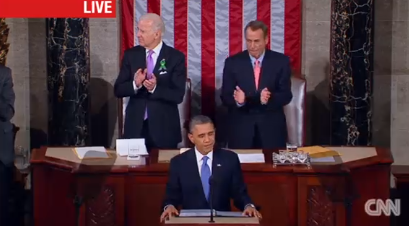 8:15pm – POTUS introduced.
8:16pm – POTUS kicks things off.
8:19pm – POTUS talks about a thriving middle class. Whose taxes he raised.
8:20pm – "The American people do not expect government to solve every problem." POTUS does.
8:21pm – Talking about $2.5 trillion in deficit reduction. Yet our national debt keeps rising.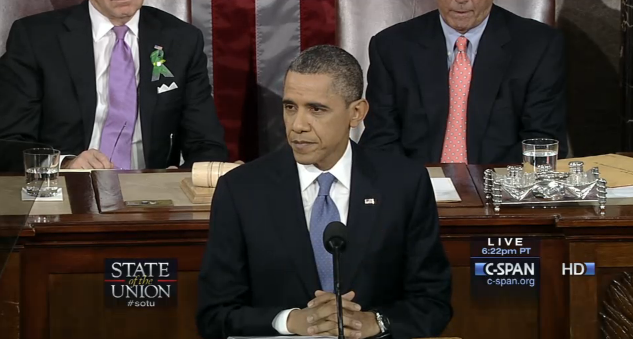 8:22pm – Sequestration talk.
8:23pm – Budget cuts alone won't solve the problem. The wealthiest Americans need to chip in to fix this.
8:24pm – On Obamacare: "Already, the Affordable Care Act is working to slow down" the economy.
8:25pm – "I am open to reform from both parties." As long as they present the same idea.
8:26pm – Tax reform to close "loop holes." Your donors won't allow you.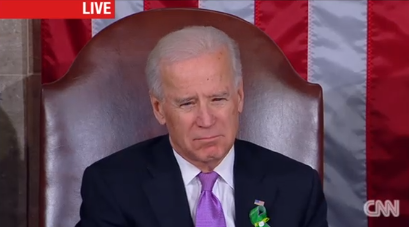 8:27pm – "Please don't close my loop holes."
8:28pm – Tax reform to raise the taxes "on companies who send jobs overseas." Like GM?
8:29pm – "Let's pay our bills on time." Lol. How about you submit a budget on time?
8:30pm – Man, C-SPAN's got a crappy angle. Gotta fully switch over to CNN.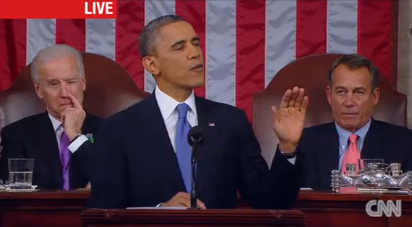 8:32pm – Switching to CNN delivers: Biden boogie.
8:33pm – POTUS is talking about creating 15 manufacturing hubs which are going to be huge job creators and centers of technology. This will happen right after those 5 million green jobs kick in.
8:34pm – Climate change. Droughts, floods, earthquakes, wildfires are now "more frequent than ever before." This is because of carbon dioxide. Stop breathing.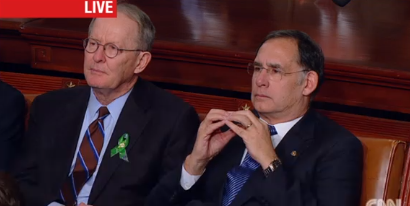 8:35pm – Eating an invisible sandwich.
8:36pm – Washington needs to work to combat pollution. Easy: put a dome over Washington.
8:37pm – New oil and gas permits. Meaning new permits to reject.
8:39pm – The "Fix It First" program: a way to rebuild America with new construction projects. These shovel-ready jobs might not be as shovel-ready as we expected.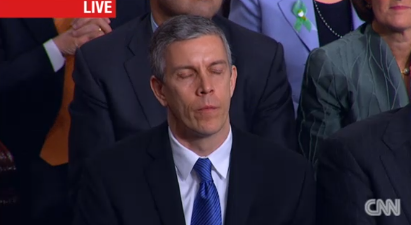 8:41pm – Education Secretary. This guy will never get to speak with POTUS.
8:45pm – "We're gonna redesign America's high schools." To be more like prisons.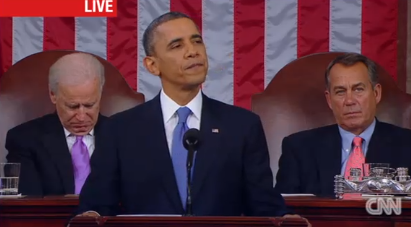 8:47pm – Biden napping.
8:48pm – "Now's the time to pass comprehensive immigration reform. Real reform means border security…" One of these things is not like the other.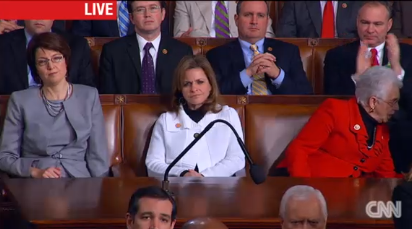 8:50pm – "We need to ensure that women earn the same wage as their male counterparts." These women are ecstatic.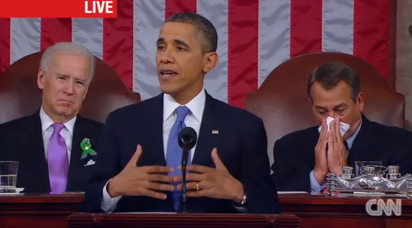 8:53pm – Boehner vomiting into his handkerchief.
8:55pm – "By the end of next year, our War in Afghanistan will be over."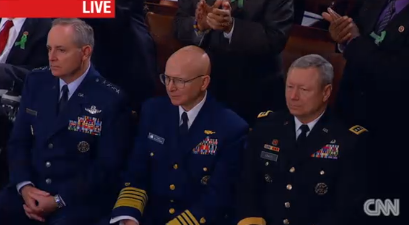 8:56pm – These generals are extremely excited.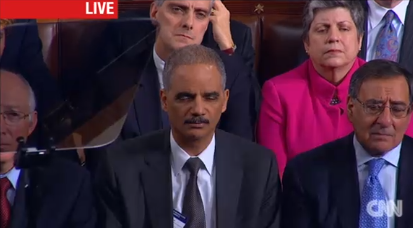 8:57pm – We've checked with Eric Holder, and he confirmed that it is completely legal to hunt down Americans with drones and kill them dead.
8:59pm – "We will make sure that Iran does not get a nuclear weapon." Like North Korea?
9:00pm – New executive order signed today for cyber security. Good-bye, Internet.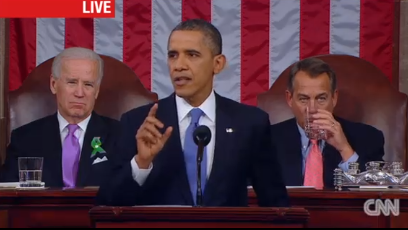 9:02pm – Vodka is allowed in the chamber.
9:07pm – We need to fix our voting system. So Democrats can vote twice.
9:08pm – Finally the big topic: gun control.
9:09pm – We need to institute background checks for gun purchases, which already exist. It's called NICS.
9:11pm – Gun control proposals: "They deserve a vote. They deserve a vote."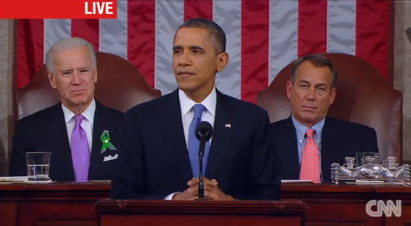 9:15pm – "We are citizens."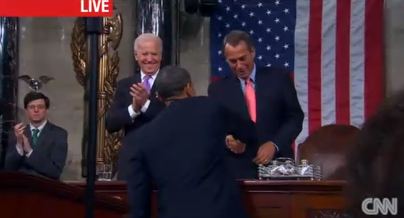 9:16pm – End of the speech.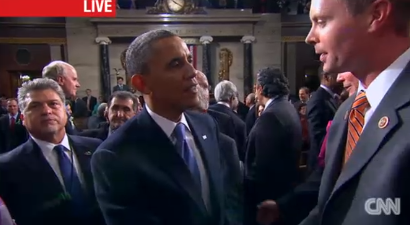 9:20pm – Exiting the chamber.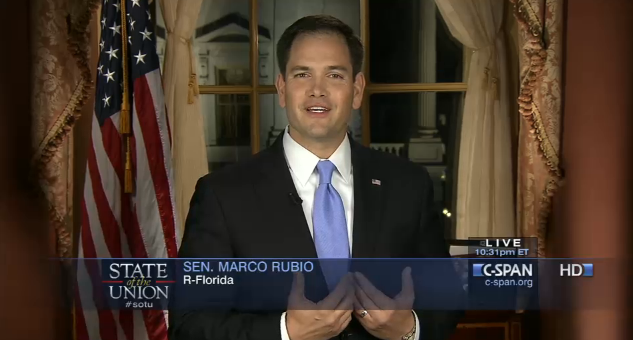 9:28pm – Republican response to the State of the Union address, by Senator Marco Rubio.
9:34pm – "I don't agree with anything that this guy said tonight."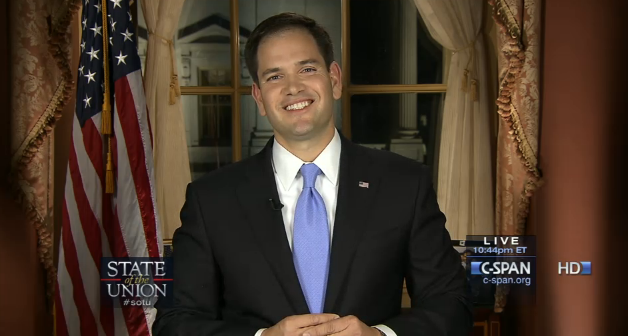 9:44pm – End of the Republican response.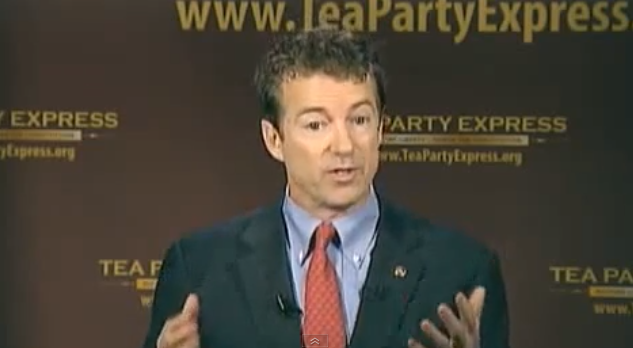 9:49pm – Tea Party response to the State of the Union address, by Senator Rand Paul.
9:53pm – "I don't agree with anything that this guy said tonight."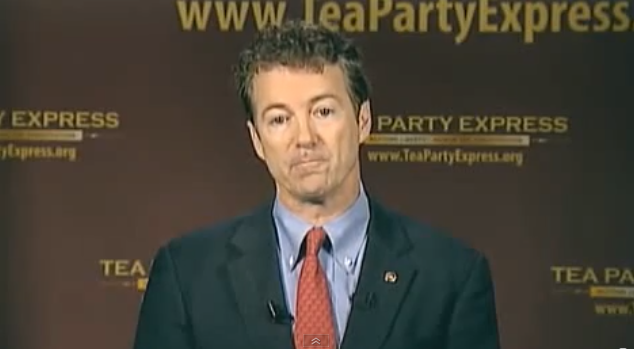 10:04pm – End of the Tea Party response.
What did you think of the State of the Union address, or our coverage of it? Let us know in the comments below!