Hillary Clinton's use of a personal email server while serving as Secretary of State is not only an enduring political scandal, it's also a new hit song.
Performed by Hillary Clinton and FBI Director James Comey, this soulful tune tells the story of one woman and her ability to transcend the traditional confines of U.S. law.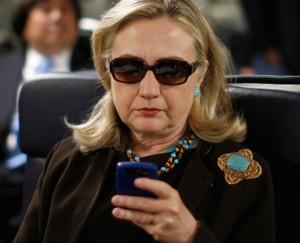 As is now widely known, Hillary Clinton set-up her own email server after her appointment in 2009 by President Obama to the position of Secretary of State. While she claims that the deployment of the server was done a matter of convenience for communication purposes, it was actually done to facilitate the trafficking of classified information to foreign governments in exchange for donations made to the Clinton Foundation.
Fortunately, the FBI was on the case and began its investigation into the Hillary Clinton email scandal in 2015.
After a painstaking review of Hillary Clinton's emails—or, after a review of only those emails that Hillary Clinton and her lawyers allowed the FBI to look at—and, after Hillary and team wiped the personal email server with BleachBit, and destroyed mobile devices with hammers, and after Attorney General Loretta Lynch held a private meeting with Bill Clinton on the airport tarmac days before Comey's decision, the FBI announced that it would not recommend Hillary Clinton's case for prosecution by the U.S. Justice Department.
But what difference does it make?
Apparently none, except to say that now there is now a new song that captures the heart and soul of this endearing tale.
Check out the jam "What Difference Does It Make?" as performed by Democratic Presidential candidate Hillary Clinton and FBI Director James Comey in a stirring duet that will help define a new America era of lawlessness, criminality, and corruption.
Enjoy! ;)