You gotta admit it: this guy's got balls.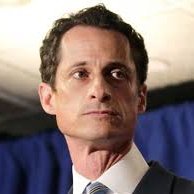 Today, Anthony Weiner erected a new Twitter account, and boy are we flush with excitement. Just two years after the former Congressman from New York got caught with his pants down tweeting a picture of his namesake to someone who was not his wife, this Congressional member rises again.
Weiner unfurled his new Twitter handle, @anthonyweiner, this afternoon and discharged a message about "Keys to the City," his new plan to improve New York that he hopes will thrust him into office as the city's next mayor.
He's got some firm opposition: poll-watchers see his past antics as a stain on this city's legacy and do not wish to have it tainted any further. Additionally, the competition in the mayoral race is rather stiff. With five other candidates running, Weiner might find it hard to extend himself and stick out from the crowd.

One thing that Weiner will need is a lot of support. With its broad base, he will need to tap into the Democratic political machine if he is to sustain himself for a respectable length of time. Also, he will need to have injections of cold, hard cash pumped straight into his campaign over and over again if he expects it to reach its zenith.
However, the matter most pressing is Weiner's image. If he is to come out on top, Weiner will have to become a master baiter of the media's attention and use them to carefully transmit his message at all hours of the day, whether it is an afternoon stump or a nocturnal emission.
All in all, Weiner has a lot which hangs in the balance. If he exerts himself fully, he could very well wind up the cock of the walk. Or, he could allow his campaign to become limp and flaccid, causing complete electile dysfunction.
Either way, this Weiner's gonna give it one more shot.