Nelson Mandela, South Africa's great anti-Apartheid activist, died on December 5th at the age of 95.
All day yesterday, people offered their condolences at the passing of this heroic figure:
Nelson Mandela brought a new era of peace to South Africa. The world has lost a great champion of human rights. pic.twitter.com/SUPXfRH59R

— Mark Kirk (@SenatorKirk) December 5, 2013
The world lost one of its best today. My deepest sympathies are with the Mandela family and the South African people. pic.twitter.com/qPc6sc8u7t

— Adam Kinzinger (@RepKinzinger) December 5, 2013
Rest in peace Nelson Mandela. The world has lost an incredible leader who showed that the impossible is possible. pic.twitter.com/nDhYUR1VPL

— Rep. John Delaney (@RepJohnDelaney) December 5, 2013

Very moving tributes.
The White House also commemorated the passing of Nelson Mandela, with a tweet containing a picture and a quote from President Obama:
Rest in peace, Nelson Mandela. pic.twitter.com/4qlqsXLp6e

— The White House (@WhiteHouse) December 5, 2013

Nothing says "my condolences" like a picture of yourself quoting yourself.
The sentiment did not go unnoticed:
.@WhiteHouse You're at the very least predictable.

— S.M (@redsteeze) December 5, 2013
Oh look, a picture of Obama with a quote from Obama! RT @WhiteHouse Rest in peace, Nelson Mandela. pic.twitter.com/JYxNgHqHAS — jon gabriel (@exjon) December 5, 2013
@exjon @WhiteHouse Next step- selfies — Andy Lancaster (@andylancaster) December 5, 2013
Did 0bama REALLY Tweet a picture of his own dear self in Mandela's jail cell as a Mandela tribute? He's really that narcissistic? Jerk!

— Neal Boortz (@Talkmaster) December 6, 2013
Because, why bother using a picture of Mandela – RT @WhiteHouse: Rest in peace, Nelson Mandela. pic.twitter.com/NE6GV6JoHi

— Cameron Gray (@Cameron_Gray) December 5, 2013
Oh look! Not a picture of Nelson Mandela. Classless. RT @WhiteHouse: Rest in peace, Nelson Mandela. pic.twitter.com/BNroZimNk6 — Heather (@hboulware) December 5, 2013
Not appearing in photo: Nelson Mandela. RT @WhiteHouse: Rest in peace, Nelson Mandela. pic.twitter.com/R5rTkwwmYn — Nathan Wurtzel (@NathanWurtzel) December 5, 2013
Good God, even now, it's all about Obama. RT @WhiteHouse: Rest in peace, Nelson Mandela. pic.twitter.com/zz9EbcmI0b

— Phineas Fahrquar (@irishspy) December 5, 2013
Hundreds of amazing Mandela quotes and yet… #ugh RT @WhiteHouse Rest in peace, Nelson Mandela. pic.twitter.com/SvMnBtl2NU

— Emily Zanotti (@emzanotti) December 5, 2013

The best part were the Photoshops that emerged: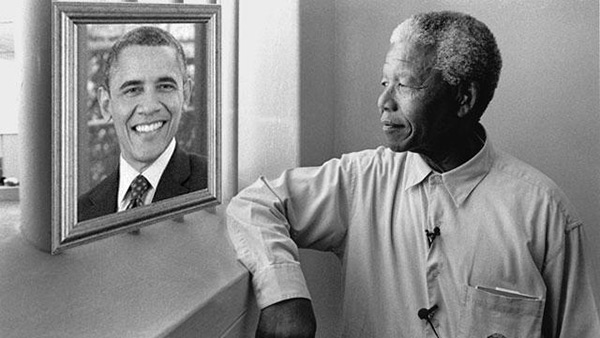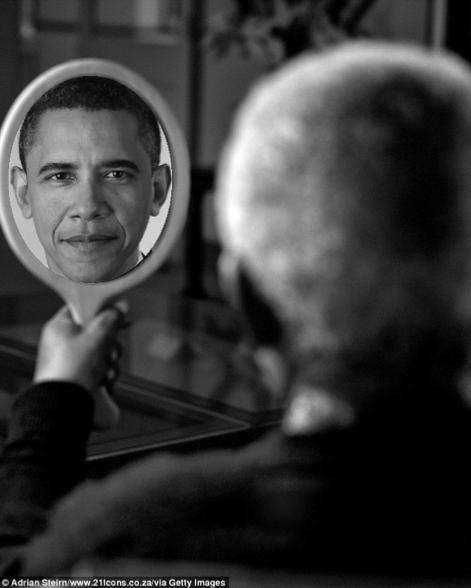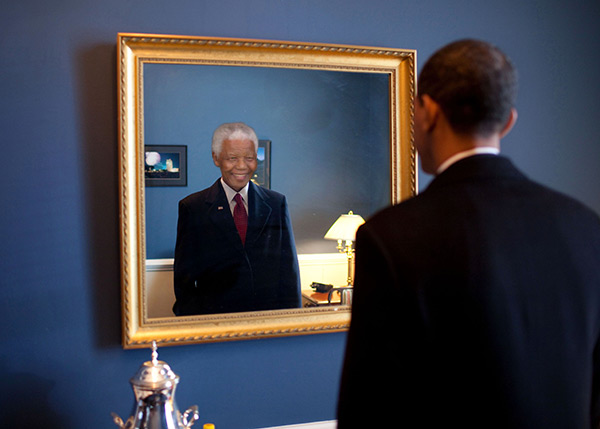 I think that this is what the President meant to say:
"The arc of the moral universe bends towards me." – Barack Obama
H/T: Twitchy