"Shame on Subaru of Wichita."
This was the message displayed on a large, white banner that showed up in front of a Kansas car dealership on March 12th: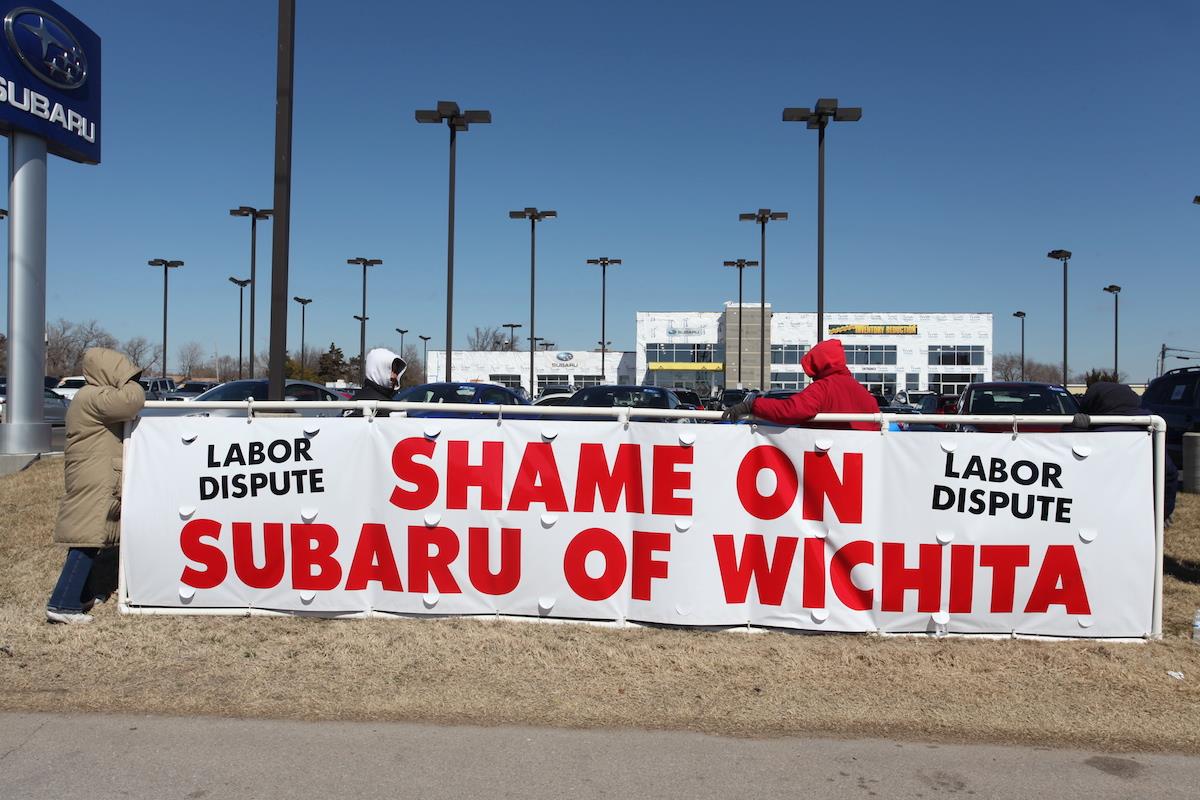 And shame is what the auto dealer should have felt. After all, they carelessly hired a drywall company for a construction project that employed non-union workers.
May their shame be eternal.
Fortunately, the staff at the Subaru of Wichita dealership had a sense of humor and decided that they would not take this union bullying lying down.
They put up a banner of their own. Here's a video showing what they did:
Here's the finished product: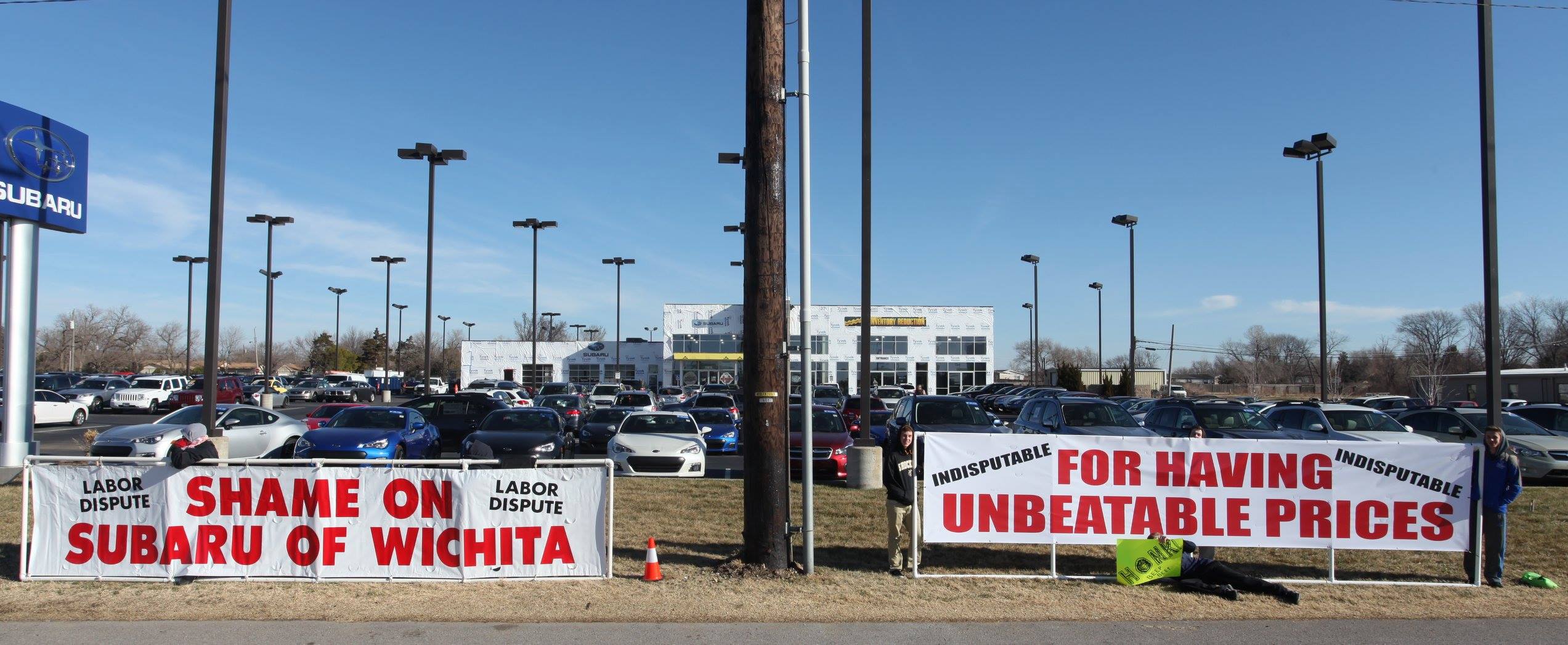 "Shame on Subaru of Wichita" "For Having Unbeatable Prices." Pretty ingenious.
However, the union protestors, who were not actual members of the Carpenters Local 201, the union that organized the protest, but who were temp workers hired by the union, were not to be outdone. They hit back with a counter-attack so vicious that it could only spell defeat for their opponents.
They moved their protest sign from its position to the left side of the dealership's sign to the right, trying to ruin their humorous phrasing.
Well, I guess that's checkmate. There's no defense against that.
Here's a video chronicling how Subaru of Wichita handled the union's brutal counter-attack:

Punctuation will always save you. Period. Unless you're the President.
The fun didn't stop there. On March 21st, the staff at Subaru of Wichita, overcome by "March Madness" fever, put up a new banner in support of the Wichita State Shockers as a lead-up to the college team's forthcoming "Round of 32" game on March 23rd against the Kentucky Wildcats: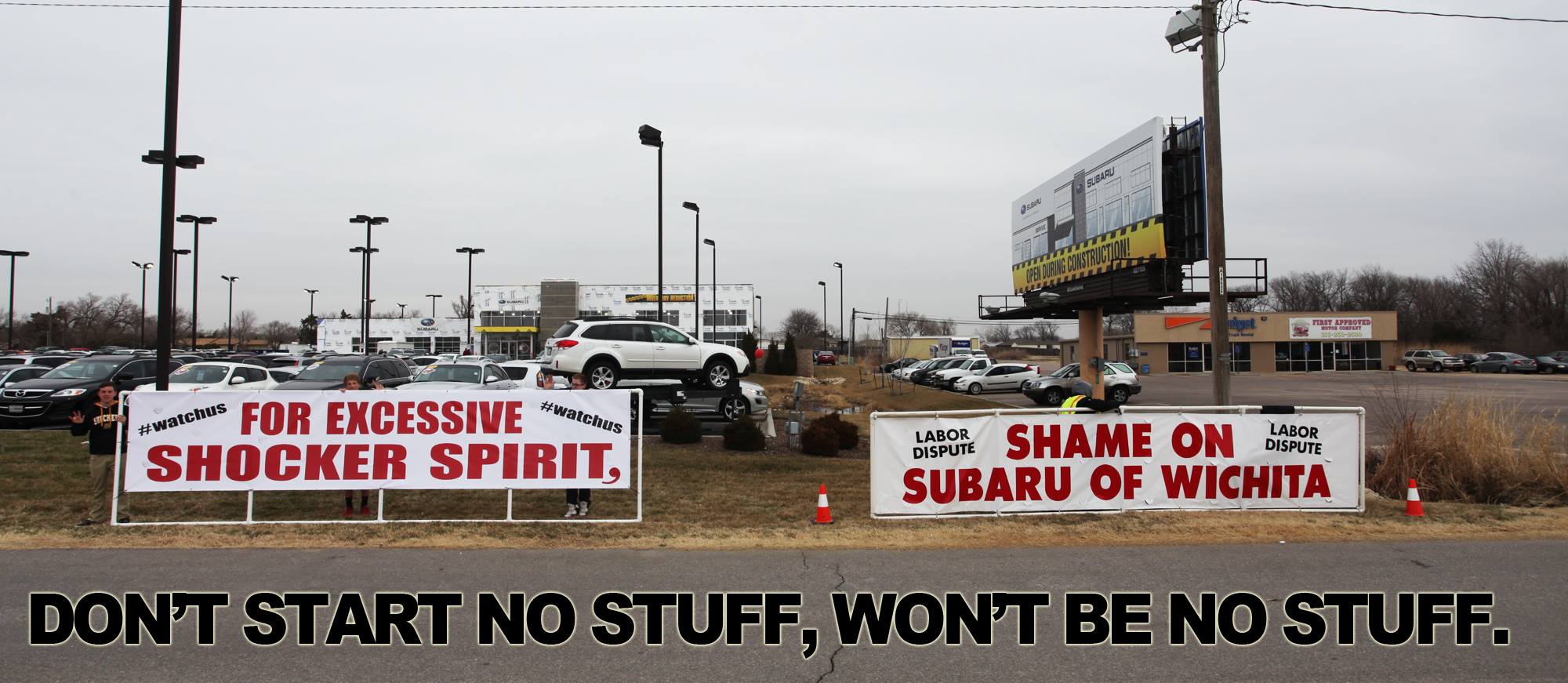 Sadly, despite their "Excessive Shocker Spirit," Wichita State did not win that game.
But the team at Subaru of Wichita sure won theirs. In an epic battle against union thuggery, Subaru of Wichita came out on top by showing courage, tenacity, and a sense of humor.
They proved that, just like their cars, they're driven by what's inside.