Young or old, the Cleveland Browns sure do have a rabid fan base.
The recent firing of Browns head coach Rob Chudzinski after leading his team to a disappointing 4-12 record in the 2013 NFL regular season has left a big vacancy on the Browns roster, and three die-hard fans think they know who should fill the void.
Meet 10-year-olds Caroline Comisford, Lulu Yearling, and Caitlyn Daube.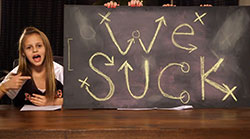 In the hilarious video below, they read an open letter to the Cleveland Browns organization, and they pull no punches. They start out by stating the problem as any honest Browns fan should:
We suck bad. Like Obamacare bad.
Wow, it must be worse than we thought.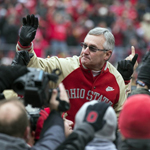 The fix? The girls propose that Browns management hire none other than former Ohio State University coach Jim Tressel, who they feel possesses the secret formula to football success: winning games.
As the girls point out, "There seems to be this freaky correlation between being a proven winner, and winning games." Might be too complicated for the Browns staff, ladies.
According to the trio, Jim Tressel "has won year after year, has won national championships, and has even won against current NFL coaches." Sounds like they're gunning for a GM spot.
Interestingly, the impassioned plea may have worked, as there were at least rumors that the Browns will interview Tressel:
Former Ohio State coach Jim Tressel will interview for #Browns head coach job within next few days, per Joe Dunn of Akron's Fox Sports 1350

— Mary Kay Cabot (@MaryKayCabot) January 3, 2014
Browns official on team's reported interview of former Ohio State HC Jim Tressel: "Totally false. A lot of BS coming out about us."

— Adam Schefter (@AdamSchefter) January 3, 2014
And Obamacare was once rumored to provide affordable health care.
The girls' entertaining video, put together by Lulu's father Mike Yearling of Yearling Pictures, is chock full of wit, sarcasm, and plenty of eye-rolling. Watch it below.
No word yet on whether the young ladies plan to fix Obamacare next.
An Open Letter to The Cleveland Browns from 10 Year Olds

(H/T: The Daily Caller)