In a rant on Monday's edition of MSNBC's "Morning Joe," co-host Joe Scarborough chastised the mainstream media for their handling of the events surrounding the Michael Brown case in Ferguson, Missouri. For over five uninterrupted minutes, Scarborough delivered an off-the-cuff monologue and addressed examples of biased reporting and irresponsible journalism in the media's coverage of the St. Louis County grand jury hearing of Officer Darren Wilson and the ensuing riots in the Ferguson area.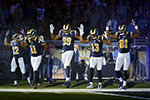 What initially set Scarborough off was an incident that took place one day prior, just before Sunday's NFL game between the St. Louis Rams and the Oakland Raiders. As the Rams players were being introduced onto the field, five members of the St. Louis offense—Tavon Auston, Stedman Bailey, Kenny Britt, Jared Cook, and Chris Givens—entered the stadium with their arms raised in a show of solidarity with the Ferguson protesters and their mantra of "Hands Up, Don't Shoot."
During Scarborough's diatribe, he argued that the mainstream media had latched onto a false narrative of Michael Brown, painting him as a hero who was gunned down in cold blood by Officer Wilson merely because of the color of his skin. Scarborough maintained that this version of the Brown story being pushed by the media was grossly negligent and has helped fan the flames of violence and racial division in the Ferguson community.
At one point, Scarborough chided:
I have sat here quietly and listened to BS being spewed all over this network and all over other networks. I can't take it anymore.
Scarborough stated that the real story of what took place on that fateful day in August was quite different from the one being portrayed in the media, that, according to grand jury testimony, Brown "knocked over a convenience store," shouted "profanities at a police officer," "and started punching the police officer and grabbing for his gun."
At Scarborough's soliloquy came to a close, he remarked that if his own child had engaged in the same type of behavior as Brown, then he would "probably be shot in the car."
Check out Joe Scarborough actually growing a spine and standing up to "the BS being spewed all over" MSNBC and other networks in the video below. No word yet on when "Morning Joe" will retract his statements and issue a remorseful mea culpa:
(H/T: TheBlaze)